DNB Family Medicine Course in India
Join DNB course (Family Medicine course) at Anand Hospital
Anand hospital has commissioned a new department offering trainings for DNB, Family medicine course. The hospital will be offering training to the interested candidates and the curriculum will be as per the guidelines of the Medical Council of India (MCI).
Scope of DNB course in India-
Family medicine is a recognised medical speciality course in India since 1983 when the National Board of Examination (NBE) was formed through an amendment in the MCI act, 1956. Today, full time Diplomat of National Board (DNB) course has gained a good momentum under NBE.  Also, today the DNB is identified as a critical area of human resource development. Multi speciality community hospitals are offering the DNB full time training course wherein the trainee is assigned to a guide who is generally a consultant physician or an internist. These trainees are later rotated in various clinical departments to learn different skills.
A-1 Damodar Colony, Garh Road, Meerut
Ph – 0121-2792000, 4016611, 9412704716
Minimum eligibility of DNB course : MBBS from a recognized M.C.I.
Entrance test:  Conducted by DNB Common Entrance Test ( DNB CET)
DNB course duration is 3 years
Eligibiity criteria of DNB course
Any medical Graduate with MBBS Qualification (Recognised by MCI), who has completed an internship (age limit up to 50 years)
Any foreign medical graduate who has passed a screening test conducted by NBE registered by The State Medical Council or MCI
Any medical graduate holding PG diploma Qualification from Indian universities
Service candidates from Defense Central/ State Govt or Railways Public Sector Institutions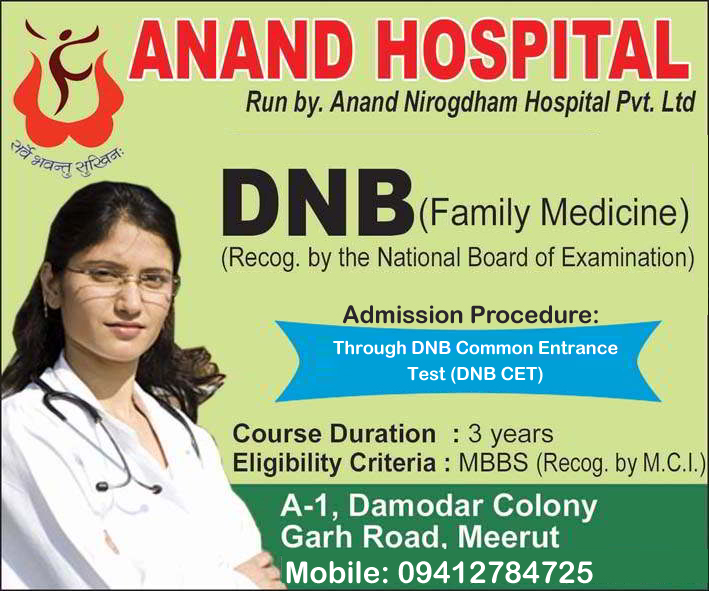 DNB, Family Medicine, Recognised by National Board of Examination
Run by Anand Nirogdham Hospital Pvt. Ltd.
National Board of Examinations, Under Ministry of Health and Family Welfare, Govt of India.
NBE is an autonomous academic body under the ministry of Health and family welfare, Govt of India that awards the title of Diplomat of National Board (DNB) Family Medicine. Today, DNB will be a desirable qualification at community health centers and sub district hospitals to meet the requirements of a surgeon, Obstetrician, pediatrician, physician, and gynecologist in addition to taking care of public health requirements of the community. There is a need for an integrated approach to diagnosis and treatment of patients delivering them best health care facilities with the help of family physicians.
The candidates successfully completing their post doctoral or postgraduate medical education under this training will be awarded the title. The primary objective of this course is to provide uniform and high standards of training in various disciplines of Modern Medicine and Allied Sciences on All India basis.
The board conducts its post graduate and post doctoral programme in the hospitals accredited by it for teaching and also in medical colleges that are accredited by MCI.
Certified professional can work in any hospital/ Medical Colleges as Senior Resident/ Registrar/ Teaching Faculty of the speciality. The DNB passed candidates will be eligible for joining the proposed post doctoral certificate courses in Geriatrics, Infectious diseases, reproductive and Child health, pain and palliative care and in Emergency Medicine.