In India, each year approximately 35000 babies are born with clefts. By an estimate, there are around 10 Lakh cases of untreated clefts in India. This is because more than 50% or people are unaware of the fact the clefts can be treated that too free of cost. Many of the patient's families are poor to travel to the hospitals to get this treated.
During the development of fetus when certain midline soft tissues do not fuse together a cleft occurs.  The clefts can develop in back of the mouth, on roof of the mouth and even they might involve the lip.
A 45-minutes surgery can prevent lifetime suffering
Majority of clefts can be completely corrected by a simple surgery that could take as little as 45 minutes. Cleft surgery can drastically change a child's life.
Smile Train is the World's Leading Cleft Charity
Smile Train is an International Children's charitable organisation offering free medications and treatments to cleft patients. The organisation provides training and funding to empower hospitals to offer free cleft surgeries in their Communities. Te organisation has sustainable approach to a single solvable problem of palate and cleft lip. By offering free cleft repairmen surgeries across the globe, the organisation believes in making Smile Social.
Collaboration of Anand Hospital with Smile Train
Anand Hospital offers Cleft Treatment Surgeries and medications free of cost to patients. The Anand Hospital has collaboration with Smile Train Charitable Organisation wherein Doctor V.S. Singh, Plastic Surgeon, treats cleft patients of age groups of 3 years to 40 years.
Address-
A-1, Damodar Colony,
Garh Road, Meerut
Ph no.- 0121-2792000, 9412784716
Timings-
Contact for registration between 09:00 am to 06:00 pm
Website of Smile Train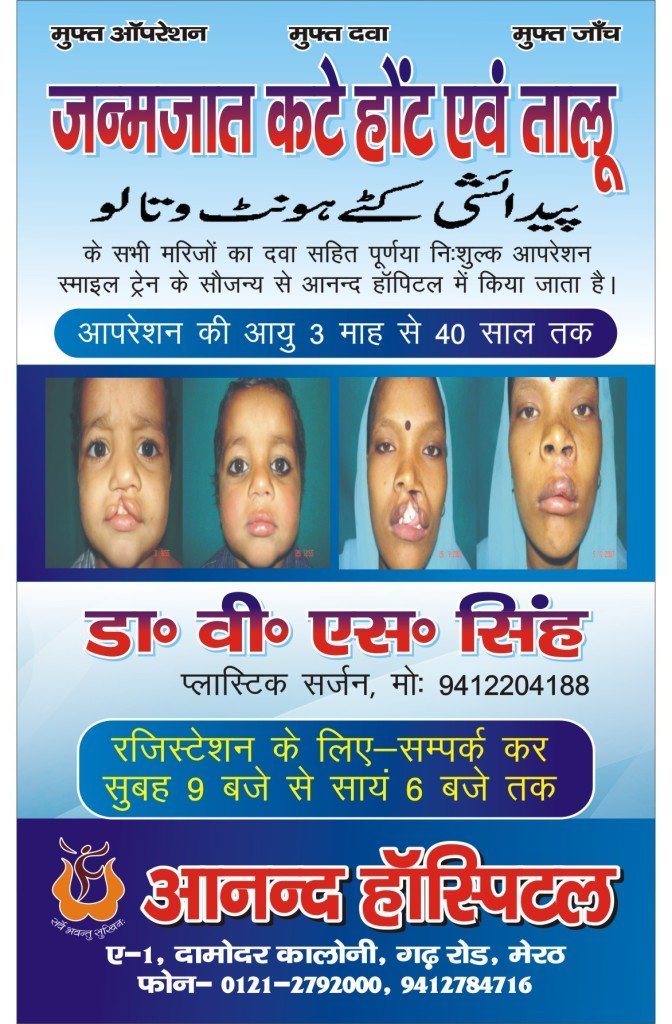 Achievement of Smile Train
| | |
| --- | --- |
| Interventions | Statistics |
| Uptoaded Interventions | 5835 |
| Unreviewed | 0 |
| Rejected | 0 |
| Accepted | 5835 |
| Combos | 59 |
| Reimbursable (Accepted + Combos) | 5894 |
| | |
| | |
| | |
| Interventions with Secondary Operations Only | Statistics |
| Interventions with Secondary Operations Only | 1719 |
| | | |
| --- | --- | --- |
| Accepted Operation Type | Operations | Percentage |
| Alveolar Bone Graft | 7 | 0.11 |
| Fistula Repair | 656 | 10.37 |
| Lip Nose Revision | 1352 | 21.38 |
| Primary Cleft Palate | 1826 | 28.87 |
| Primary Lip Nose Bilateral | 277 | 4.38 |
| Primary Lip Nose Unilateral | 2072 | 32.76 |
| Secandary Cleft Palate | 124 | 1.96 |
| Other | 11 | 0.17 |
| Total number of operatigns | 6325 | |
| Total number of secondary operations | 2150 | |
| Percent of secondary operatigns | | 33.99 |
| Combos (primary lip and primary palate) | 59 | |