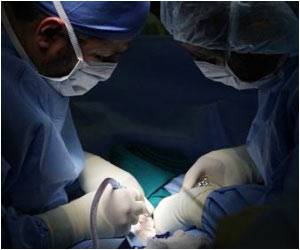 Chayee Lee, 2- year old Chinese boy from Singapore whose chin was under-developed, underwent a surgery at the Balaji Dental and Craniofacial Hospital. Along with his chin, the boy's tongue was set in an abnormal position because of a a rare congenital genetic disorder, called Pierre Robin syndrome, that affects one in 10,000 live births.
The boy's condition worsened after he had a severe fall when he was a month old. This accident left his jaw joints fused into the skull bone on both the cheeks. The boy's tongue also kept falling back in the throat, blocking the airway completely and making it extremely dangerous.
Advertisement
"The boy also had snoring apnea, where the breathing stops for a few seconds to minutes. The child used to wake up often gasping for breath, which leads to heavy snoring, difficulty in swallowing and problems in speech. If the jaw bone had not been widened by a surgical procedure and the tongue corrected, the boy's life would have been in danger," said D S M Balaji, Craniofacial Surgeon and managing director of Balaji Dental and Craniofacial Hospital, who performed the procedure.
The procedure was challenging because, an alternate airway had to be fashioned via a tracheostomy – a procedure by which a small hole is made in the wind pipe. "Instead of grafting a bone from another part in the body, the pediatric mandibular distraction, a device that can be adjusted by a screw fixed in his lower jaw. After six days of healing, the screw was adjusted everyday by half-a-millimeter that enabled the new bone to grow by the same length. Over a period of 50 days about three cm of bone growth was achieved and the device was removed. Since the procedure was done inside the mouth, there is no scar on the face," Dr Balaji added.
"Doctors in Singapore refused to conduct the surgery because of the child's age and the risk it involved," said Lee Tech Chuan, father of Chayee Lee, a sales executive in Singapore. The boy is doing well and is likely to be discharged in a couple of days.
Source: Medindia